The trip back to Pakse included spending half of the minibus drive with a huge iguana, which the driver suddenly bought from a roadside vendor. Slightly weird. We found a decent hotel in town and went by motorbike the next day to see the Angkor ruins this area is famous for. The ruins themselves were ridiculously small compared to Angkor Wat to the south but the nature in the area was quite nice so we enjoyed our little road trip including the two ferry rides across Mekong river.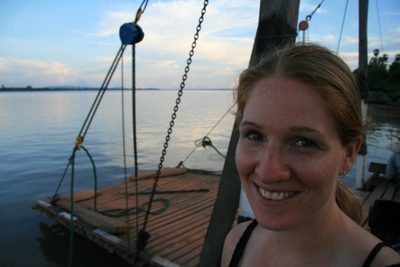 The following day we went by bus to Ubon Ratchathani across the border to Thailand. Immediately after crossing the border we rediscovered how civilized Thailand really is compared to it's neighbors with nicely paved roads, well maintained buildings and generally less trash in the streets.
We found a place to crash and got this trip's cheapest meal: 2 dishes of Phad Thai and two soft drinks for 80 baht (13 DKK or 2,5 USD) and it tasted awesome.
Next day we prepared ourselves for the bus ride all the way to Bangkok, but were positively surprised to find out that our bus was of extreme luxury. Comfortable, spacious airplane seats with built-in massage. We paid 550 baht (88 DKK, 16 USD) for the ticket and the only drawbacks were the ever-present local stand-up comedy shows and movies being shown at deafening volumes.
Bangkok seemed less impressive this time altogether. Everything seemed to be more touristy and the tuk-tuk drivers still try to scam you or take you to different tailors or souvenir shops to get commissions. We stayed near Khao San once again where the food was overpriced and tasteless – probably because it has been adapted to tourists, but we just weren't aware of this when we first arrived three months ago. We found a few nice places though: Rick's Coffee Shop at Phra Athit with nice breakfast (probably other meals as well) and Hippiegallery, a cozy secluded café on Soi Chanasongkhram.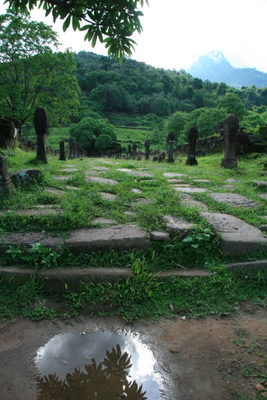 I got my wallet (including insurance, driver's license and credit cards) stolen by a cowardly bastard of a pickpocket at MBK shopping center so that didn't contribute to a pleasant stay either. We had absolutely no regrets at all over leaving Bangkok this time.
We flew to Los Angeles touching down in Taipei, Taiwan, on the way there. The flight was long indeed and arriving in LA was quite the culture shock one would expect coming from Bangkok. Fortunately we'd booked a rental car in advance so we quickly found a motel to rest our travel weary bodies after the 16 hour flight. The time difference from Bangkok to Los Angeles is 14 hours so we had to turn our circadian rhythm completely upside down which we're still struggling with.
Pictures from Pakse, Ubon Ratchathani and Bangkok.