On a more informative perspective compared to the previous writing, we stayed in Hoi An for 4 nights. We booked a hotel in advance from the bus ticket office in Da Nang which turned out to be quite a fiasco. We figured we would like to pay a little extra, $17, for some additional comfort, wireless Internet access and even a pool. Our hotel was called Hoang Binh and turned out to have closet-sized rooms, a freezing tiny swimming pool, malfunctioning wi-fi and grumpy staff. Very overpriced and not recommendable. We changed to another hotel called An Phu later on which was way nicer and indeed recommendable. You should be aware that you are able to negotiate every hotel price and never believe the printed price list shown to you.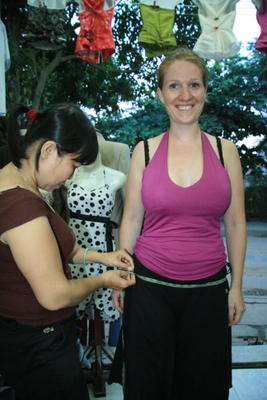 Hoi An is the tailor mecca of Vietnam, so we figured we might as well get some custom tailored clothes while we were there. The old part of Hoi An is quite charming with all it's lamp and tailors shops, but there are lots of annoyances as well as mentioned in the previous article. In the vicinity of Hoi An (5 km) there's a quite average beach which really isn't worth wasting precious time describing. A bit further away, however, are the Marble Mountains, which is 5 big chunks of rock suddenly rising from the ground. We rented a moto and went there seeing a bit of the countryside at the same time. At Marble Mountains there are a few pagodas and temples but the coolest sight was an impressive cave complex depicting heaven and hell. As a bonus the cave site also contained loads of creepy and hairy cave creatures like lizards, spiders and bats.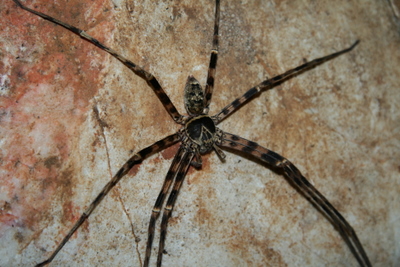 Besides that you could climb one of the mountains to see the view, which on one side was a nice scenery of the mountains and the beach, and on the other side, covering the entire area, a trashy bungalow city probably erected by tourist money. Lovely! We decided to head back to Hoi An relatively quickly as we felt the ticket offices at Marble Mountains were scamming us by charging us double on the entrance tickets. When we questioned them about this issue they just played dumb – a normal method of solving problems round these parts.
On the way back we stopped by Montgomery Links Golf Club and couldn't resist taking a few swings at the driving range. Good fun. Later on we picked up our tailored clothes, which turned out nice, and found a small cozy restaurant serving the best Vietnamese food we've had so far.
The following day we went to Da Nang airport with a hotel taxi to catch the plane to Hanoi. Even though the trip is only a bit more than one hour we flew in a Boeing 777-200 which is enormous! Felt like a waste of fuel, but we had nice seats and an in-flight entertainment system as if we were flying intercontinental. Who cares if you can only watch half a movie before you land!
We arrived at Hanoi very much alive after the hardest landing any of us had ever experienced. After taking the airport bus to the Hoan Kiem District in the city center we were instantly met by the hotel and moto touts, who always seem to know all bus schedules and drop-off points. Battling our way through the crowd we walked for a while with our luggage and found a decent hotel for $15 – only to realize that the hotel's water pump was located just outside our window making an annoying screeching sound (a bit like an old matrix printer in action) when someone in the building used water.
To make the best of the time here in northern Vietnam we booked some tour tickets for Halong Bay for the following day (about $38 per person everything included) and we're looking very much forward to that. The tour includes boat trips in a traditional vessel replica and two overnight stays – one in a cabin on the boat and one at supposedly beautiful Cat Ba island, the biggest island in the bay. We might end up having paid for a completely useless tour but if we expect the worst we can only be positively surprised, right?