Walking the worn paths of Angkor Wat is really exhausting and makes your feet hurt – which then again is a very good excuse to grab a foot massage in the evening to get some relief in the old aching muscles.
We tried to get to Chong Kneas, a floating village on Tonlé Sap Lake. You have to go there by boat, so when we got to the pier (in the middle of nowhere) where the boats embark, we were met by some of the rudest Cambodians we've met so far. With an arrogant attitude towards tourists they tried to rob us blind by charging us $35 for a 1½ hour long boat ride.
Spending a lot of time haggling we managed to get a price of $20, but then they got mad at us merely for asking other tourists what they've paid and we were really not intimidating or threatening in any way. After this they refused to take us anywhere, told us to go away and calling us names in Cambodian. Ridiculous!
We walked away, and when we got back to our tuk-tuk, the ticket guy came back and told us he was sorry and that we could sail with him anyway, so suddenly our tourist money was good enough for him… This resulted in us going straight back to Siem Reap to see the National Museum instead. We figured that those damned hagglers didn't deserve a cent.
We also met a British girl who simply turned down their very first outrageous offer of $25 for her alone, and went straight back to the city, a reaction which seemed to shock them. So if you're considering going to the floating village then we definitely recommend buying the boat ticket beforehand at one of the travel agencies that seem to be in abundance here.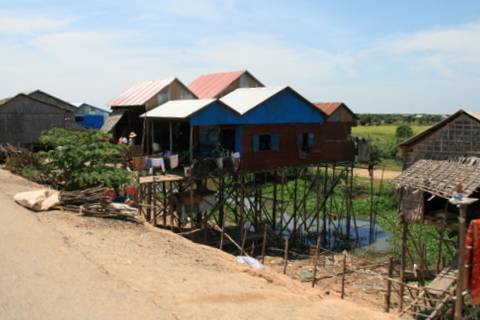 The Cambodians are generally really really nice people (the boat ticket idiots excluded), but the one thing starting to get annoying is that no one can be trusted when you ask for a price. They expect you to be a naive tourist and pay the initial price (which is twice as much as the fair price) or spend ages haggling over as little as 50 cents. Being cheap – and from Jutland – I just can't stand the thought that I'm being cheated for an amount no matter how small it is, so they shall never have their full amount – hahaaa! Lisa is getting there too so maybe she will finally convert to… Jutlandism?
All our clothes was really sweaty and smelly from walking about all day in the heat, so we paid some woman in a shack a few dollars to do our laundry for us. Next day we saw it on hangers drying in the sun and the dust from the dirt road. Cheap and it seemed somewhat clean when we got it back in the evening :)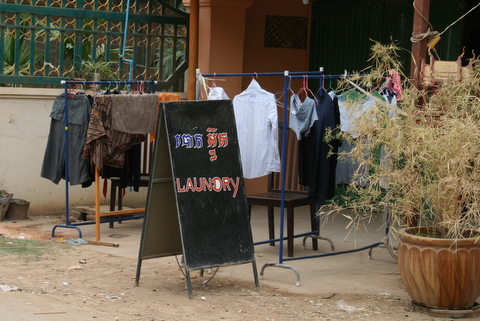 The National Museum of Siem Reap was okay; a little on the expensive side charging $12 per person, but at least the price was fixed and we'd rather pay the museum the money, than some retards with boats trying to pull their scam on unlucky tourists. We saw a lot of ancient Khmer statues and carvings and now we're at a café with comfy chairs relaxing with a cheap cocktail.
Tomorrow we will grab a bus to Sihanoukville to relax on some beaches in the south, which we really need now! The only downside to this is that the bus ride takes 9 hours and that it is leaving at 7:30 in the morning. But if we can get up at 4:30 to see a sunrise, then we can probably manage this too.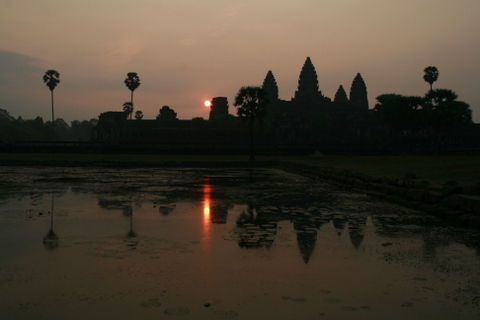 I love the smell of Angkor Wat in the morning.