It took Lisa's stomach about 3 days to get better after the food poisoning and after spending some time cursing Wunderbar we finally left Trang to go to Laoliang. We took a minivan with a sane driver to Hat Yao pier and went by boat the rest of the way. Laoliang is a national park where no one is allowed to build anything permanent that could interfere with the nature there and that meant we were going to sleep in tents. The more permanent buildings like the toilet and bar were made from wood. Climbing and snorkeling equipment was made available when we got there including a kayak but we only managed to see some fish and paddle up and down the beach in the kayak a few times.
The island itself was nice but is was pretty hard to sleep as it felt like you were in the middle of the jungle. Well, technically the actual jungle was 30 meters behind our tent and the ocean 30 meters in front of it so when the sun went down all kinds of weird animals started a concert of noise. But the worst part was the amount of mosquitoes. Evil blood suckers. Lisa took a few bites but I was basically devoured alive. So – the only way to get some sleep was to drink some beers in the jungle bar along with some of the American guests at the island. Stuart, Casey, and the Weedman. Yes, this was his actual name: Chad Weedman. Really nice people even. We had a good evening drinking some beer and probably keeping the other guests awake.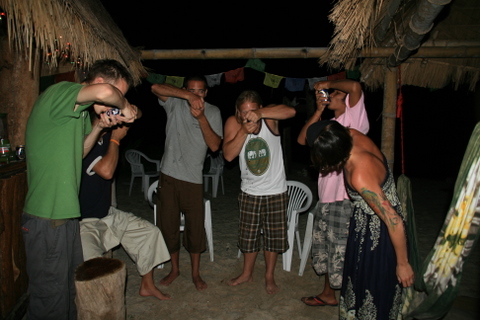 We left Laoliang after two nights to go to Krabi where we had to catch the plane back to Bangkok the following day. This was however completely ignored by the minivan driver (who was the most careful guy we've met so far – never went faster than 80 km/h) as we were taken to Ao Nang instead. "I think you guys got screwed, man", the Weedman said as they were in the van as well and actually had paid for a trip to Ao Nang. But it wasn't all bad. Ao Nang is a touristy beach and party spot 20 minutes by car from Krabi and we had already seen Krabi once so suddenly being in Ao Nang wasn't so bad after all. We found a place to stay and visited a doctor to find out what was really wrong with Lisa as she had had an on-and-off fever ever since Trang. The doctor gave her a shot and some antibiotics and the fever went down. Yeay!
Next day we left for Bangkok and got a cheap hotel near Khao San Road. This turned out to be infested by aggressive ants so that good nights sleep we were seriously longing for was completely ruined by ant bites assisted by rock hard pillows. Thanks again Star Dome Hotel. We did get to listen to some great live music on a local bar in the area though. Next day we checked out of the super bad hotel and found a nicer one (with a pool) where we're sleeping tonight and tomorrow we're going to Cambodia which will be new and exciting. So far Thailand has been nice but as expected very touristy and it will be nice to get away from that even though it will probably be twice as bad when we get to Angkor Wat. Guess we'll see :-)