Staying in Sihanoukville for 5 nights felt like a tad too much. In our search for a more tranquil place to stay we went from Ochheuteal Beach, where all the hawkers seemed to hang around, to the more deserted Otres Beach. This beach is only accessible by a dirt road and there are no shops, ATMs, or constant electricity in this area. We stayed for a few nights at Small Green Bungalows for $15 a night, which was expensive, but reasonably comfortable.
The Khmer new year is quickly approaching starting from April 13th lasting three days. Most Khmer see this as a big and expensive festival and the only way to get enough money is for some locals to rely on bag snatching and robberies. The western hotel owners said they've been hearing about lots of robberies lately and apparently it's much worse than the year before.
We were therefore strongly recommended not to walk outside during nighttime which made the stay in Sihanoukville just a little bit more uncomfortable. We spent our last day in southern Cambodia by taking a tour in Ream National Park which included a boat trip along mangrove forests, a short trek through some jungle, a visit to a fishing village and the boat trip back again. Not super exciting and a bit overpriced ($15) but it was way better than staying on the beach with all the aggressive beggars and vendors.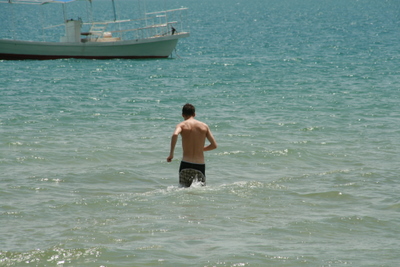 We left Sihanoukville in luxurious style taking a taxi to Phnom Penh as none of us felt like enduring 5 hours of unbearable karaoke. It cost us $10 per person as we shared it with some New Zealanders we've been hanging out with. They drive pretty much like in Thailand here, overtaking with every chance they get, so what we hoped was a relaxing drive in the countryside turned out to be a death rally drive instead. So for those of you at home sitting in an office thinking you really need relaxing vacation, we can only conclude that you don't. Not in southern Cambodia anyway.
Driving through the countryside villages, looking at the locals doing their chores outside rickety houses while huge piles of garbage is randomly stacked by the road, reminded us of the striking resemblance Cambodia has to Central Africa as you see it in the media. We both think Cambodia is a super nice country with enormous cultural heritage but the way the country is governed is really sick and the Cambodian people don't deserve that. The prime minister, Hun Sen, is an former high ranking Khmer Rouge officer who bullies and threatens his opponents so he can stay in charge and his entire justice department is corrupt to the bone. We met a local girl on the national park boat trip who we asked how they could tolerate an ex-Khmer Rouge as a prime minister after those horrible years during the seventies. She reluctantly answered that she would never say anything bad about the current government, while she drew a line across her throat with her finger. Point made. Doing a bit of Internet research reveals that money from some foreign aid organizations is distributed by the government who judges who the "needy" people are thus making the rich richer and the poor poorer, which again is a good way to describe Cambodia. The majority of the population survives for less than a dollar per day and nothing will change to the better while Cambodian People's Party (CPP), led by Hun Sen, is in charge. The man is ruthless and numerous Internet articles supports that statement.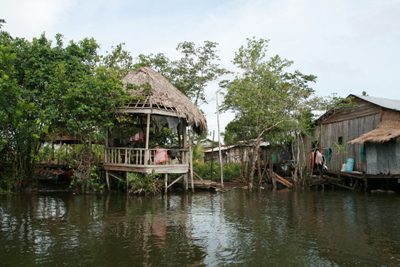 We spent one night in Phnom Penh at Top Banana Guest House and today we're taking the express boat to Chau Doc, a Vietnamese border city, where we're planning to stay for a night or two before going to Ho Chi Minh City (Saigon) by bus. The boat ride is kind of pricey too, costing us $22 per person, but at least it is different than the bus rides and much less dangerous than the taxis, and we get to see a bit of the Mekong river.
Updated pictures album from Sihanoukville