We finally got out of Honduras but spent too much time there mainly because of the stubbornness of ex-president Zelaya. Even though he tried to land several times with his chartered jet no airport gave him clearance. We took the chance and got ferried to the mainland on Monday and caught the Tica bus to Tegucigalpa.
The trip took us 7 hours and we arrived in the capital at nightfall. Tegucigalpa looks a bit like San Salvador as everything seemed to be tightly locked down.
We found a hotel guarded by heavily armed troops – not because of the hotel, though, but because the mayor lived in a huge mansion next block. We managed to sleep a few hours before the next bus trip to Managua, Nicaragua the following day.
This took us 8 hours before showing up late in Nicaragua's capital. At first sight Managua seems less paranoid with security and therefore more welcoming. We found a really nice guest house to rest our weary bodies after eating at restaurant "The Other Fish".
The third day of traveling brought us to the town Rivas with a chicken bus, got a taxi to San Jorge where the ferry to our destination embarked. Isla de Ometepe is an island in the middle of Lago de Nicaragua and consists of two volcanoes connected by hardened lava. The ferry took us to the western part of the island from where we had to take another taxi to the middle lava part called Santo Domingo. After arriving very tired of being transported by wheels we found a hotel, ate something and had a beer.
The island's beaches are made of black sand and there is an ominous atmosphere surrounding the entire place confirmed by the vultures circling the skies above. Generally it was a very windy and a bit chilly place surrounded by dense jungle. It would be the perfect place for the next evil James Bond villain to hide his evil fortress and plan world domination. The active volcano could provide the underground fortress with endless power and the inactive one could contain his nuclear arsenal while the jungle would conceal his evil armies of mindless clones.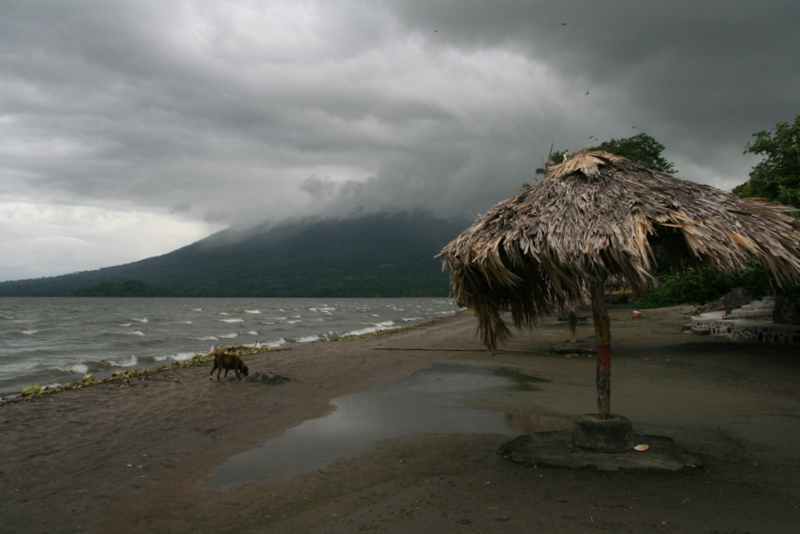 Santo Domingo consisted of approximately five hotels and a few cormidors on the beach so that wasn't super exiting to explore. We planned to partly climb one of the volcanoes but Lisa fell and bruised her knee so she definitely didn't feel like climbing anything. Her fever suddenly returned as well so that didn't improve the situation either. Both volcanoes were mostly hidden by clouds while we were there anyway so we decided that Isla de Ometepe wasn't really what we needed at the moment and headed back to San Jorge two days later.
In Rivas we managed to get picked up by the international Tica bus to San José, Costa Rica. Nine hours later in San José we found the worst and most expensive accommodation so far in Central America called Costa Rica Backpackers ($28 for a bunk bed with a shared bathroom). We ended our night eating Argentinian steaks at a nice restaurant together with some fellow travelers we met on the bus.
Updated photo album from Roatan, Honduras