Getting tired of the damned Swedish tourists who seem to have invaded Ko Lanta island, we decided to go to Railay (Rai Leh in Thai). Railay is famous for being the setting for the James Bond movie "The Man with the Golden Gun". It is a patch of land only accessible by boat or a 20 minutes climb. Railay was indeed super nice with exceptional limestone cliffs spontaneously rising from the ocean. And of course this place is apparently a rock climbers paradise with hundreds of climbing routes. We had to give it a shot of course and it went rather well. If we hadn't had an instructor to hold the safety line we would have died several times :). Lisa had to overcome her slight fear of heights, but after that everything went smoothly and it was great fun and we'll definately give it a try later on when we get to Laos.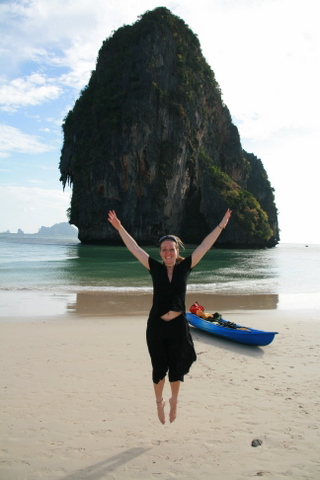 We stayed in a hut in the jungle 10 minutes from the beach where we arrived. We quickly learned that Railay has a very nice beach inside a quiet bay, and a very crappy beach on the opposite side. We walked as far as we could to get the cheapest possible hut surrounded by jungle. This meant there was a LOT of disgusting bugs which kept us up at night. We still haven't recovered from all the damned mosquito bites. Mosquito net and repellant spray didn't do the trick after all. Guess we have to figure out something better when we get to those malaria infested areas in Cambodia.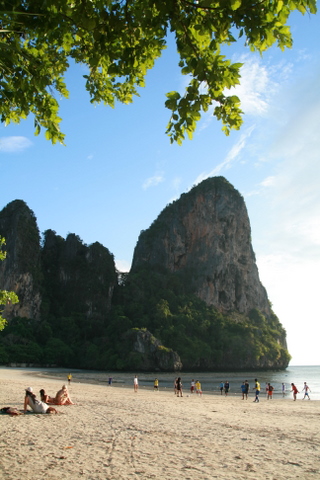 Yesterday we rented a kayak and sailed along the coast to look at some of those enormous limestone cliffs. We took a break at a small private beach, got back to the main beach, and treated our sore arms with a Thai oil massage. Apparently I always get the old and manly masseurs and Lisa gets the young nice ones. We still haven't figured out why. She got the soft and gently massage and I got every bone in my body broken – bent as a pretzel.
After a good nights sleep hunting bugs in our jungle hut we decided to leave Railay (which was also full of Swedish people) to go to Krabi again via a long-tail boat. From here we got a super nice, air-conditioned, spacious mini-van with a polite driver who was supposed to drive us to a southern city called Trang. We were very happy about this for 5 minutes before he stopped at some dodgy place in Krabi and told us to take seat in a old crappy mini-van which included a driver with a death-wish. The maniac made our lives miserable for the two hours the drive to Trang took by overtaking recklessly with every chance he got. Even before curves and hills. We'll probably avoid the mini-vans from now on.
Arriving in Trang we found a small, very cheap, clean guest house (PJ Guest House) and the caretaker is the nicest lady ever. Only 200 Baht per night = 32 DKK. We're now sitting in Wunderbar (horrible name, yes?) with very good Thai food.
When we leave Trang we'll go to Lao Liang – a small tropical unspoiled island in the middle of nowhere further south. More about that later…