After a tiresome stay in Vietnam we've decided to put it all behind us and concentrate on Laos. Describing the Halong Bay incident shortly, it was an incredibly poor organized tour and the boat crew behaved like we were there for their sake and not the other way around. Our mood wasn't positively influenced by the rainy weather either on day two on Cat Ba island. Altogether the trip was shit, and almost everybody we met on the tour agreed. Unfortunately we had paid a deposit on another tour to Sapa. We booked both tours through Sinh Cafe, which can be found throughout Vietnam, and we got nearly the entire amount refunded, so they are almost forgiven for selling us a useless tour. When we got back from the tour, aching everywhere from a 4 hour minibus ride, we decided to go to Laos on the first plane the following day. This gave us until the afternoon to explore Hanoi's old town which was quite fun.
Sitting here in Luang Prabang with a cold drink, neither of us have any regrets about going here. The Lao people are so much happier and laid back than the Vietnamese and, as a fellow traveler described them: "If the population was more laid back, time would go backwards in Laos". We are constantly greeted with smiles and "Sàbaai-dii" ("Hello" in Lao), which makes the general impression of any country so much more positive. On my birthday we moved to a really nice hotel, got some lunch, went to see the sun set from the top of Phu Si mountain and finished off by having gourmet food in a stylish restaurant followed by wine and a few beers. Perfect. This is exactly the right spot to visit after hectic Vietnam.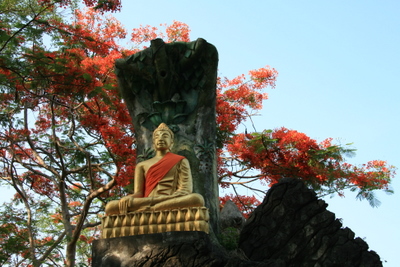 Luang Prabang is a provincial city voted to be the most beautiful city in Southeastern Asia and is surrounded by lush green mountains and the two rivers, Nam Khan and Mekong, run through the city and flows together in the outskirts. Quite scenic. We'll enjoy life here a couple of days.
Pictures from Luang Prabang, Laos