We ended up staying in Lima for four nights and got to see far from everything this city had to offer. It was much colder than anywhere else we've been so we went to a mall called Larcomar to buy some warmer clothes. It turned out Larcomar is Lima's most expensive mall only occupied by western designer stores which are carved into the cliffs overlooking the Pacific. Very pretty but too pricey so we just ate some food and went to the movie theater where we saw a rather bad sci-fi called "Knowing". Lisa got her mandatory antibiotics shot at a local medical clinic where they charged us the outrageous price of 1 sol ($0,30) for their time.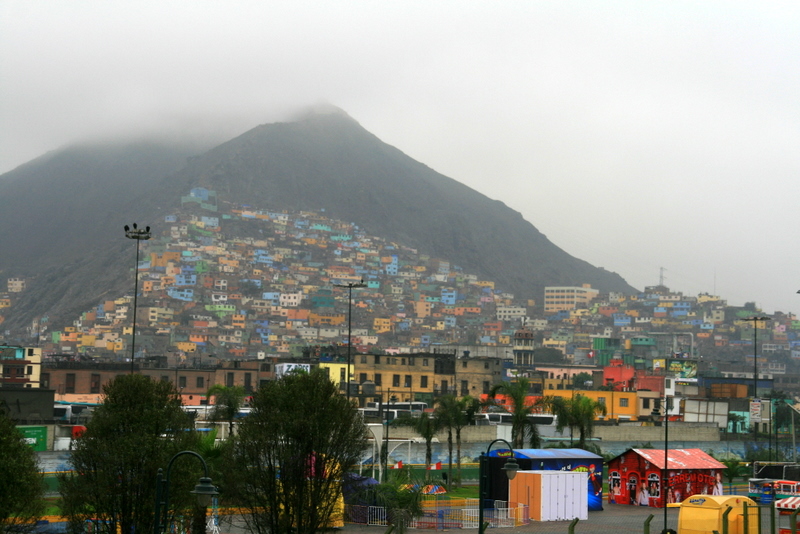 The second day was spent on sightseeing in downtown checking out the historical plazas and fancy old buildings – the standard stuff. This included the church of San Francisco which had fantastic internal architecture and very morbid catacombs with bones and skulls sticking out everywhere. Unfortunately no photography was allowed. This time Lisa's shot was injected by a nurse more ancient than the Inca culture itself. The shot hurt like hell and the hag charged us 3 soles ($1) and undoubtedly stuffed the money in her own pocket as we couldn't beat a receipt out of her.
The last day was spent on visiting Parque del Amor (Park of Love) and exploring the ocean-side walkway on the cliffs in Miraflores. Parque del Amor is a funny place as the locals go here to make out. Peru differs greatly from Central America and Asia as it seems to be far more accepted to show public affection here. We ended up once again in Larcomar's movie theater seeing "When a Man Falls in the Forest" (for 9 soles or $3 each, cheap cheap). Fantastic movie compared to Knowing.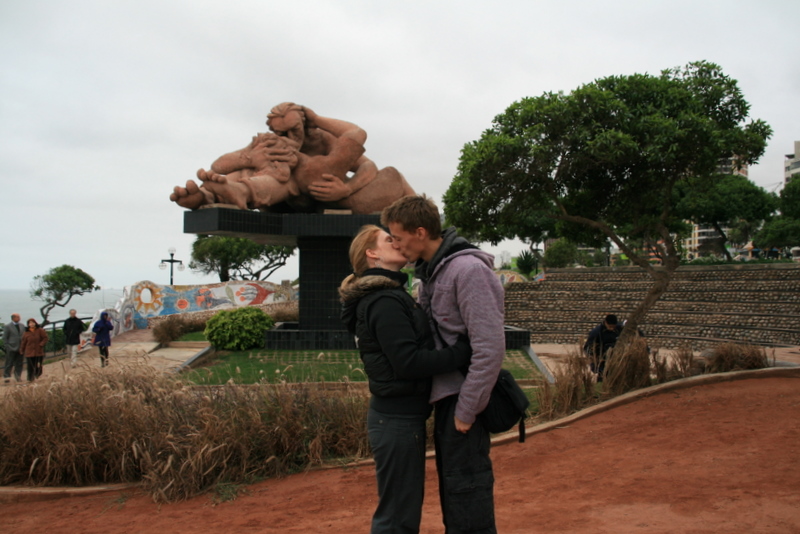 All our photos from Lima look a bit gray and dull and that was because the weather was exactly like that. Lima is apparently more or less constantly plagued by misty weather this time of year (July) and the temperature went nowhere above 17 degrees Celsius and much lower at night so we were quite happy about our Panamanian jackets. Among other weird things we noticed about Lima was that it is invaded by VW Beetles. When walking or driving a random street we would always have a Beetle in sight or hear the unmistakable sound of an old VW engine.
Last day in Lima we woke up late, got breakfast (which by the way was quite good compared to Central America) and took a taxi to Av. Mexico where the Soyus intercity bus company has their offices. We bought a ticket (18 soles, $6) to Paracas 4 hours away which is popularly called the "poor man's Galapagos" as penguins, sea lions, and many other marine animals you don't normally see in the wild, hang out here.