Watching the Killing Fields outside Phnom Penh was depressing as expected but Tuol Sleng was actually worse. So after walking a bit around the fields paying our respects we decided to leave Phnom Penh to go to Siem Reap and Angkor Wat which everybody keeps babbling about. We took the local bus (5 USD per person) and started driving. The road to Siam Reap was really bad. Littered with holes caused by bad road maintenance and way too much traffic was the main reason the trip took 6 hours even though Siem Reap is only about 300 km from Phnom Penh. But also farmers suddenly dragging their cows across the road, hazardous overtakings by vehicles in the opposite lane, and dogs and chickens threatening to cross spontaneously caused the already grumpy bus driver to brake rather violently once and a while.
The fact that he insisted on putting horribly loud Cambodian pop music videos on the TV and speaker system made the trip seem twice as long for non-natives riding the bus. The bus stopped however every two hours at designated restaurants where there were plenty of people trying to sell us all kinds of crap. We even saw a stall selling fried spiders and that wasn't even the small delicious crunchy ones, but big hairy beasts. They must have a lot in that area 'cause she had a big basket full of them. Other snacks like boiled turtles with their bottom armor removed were also available.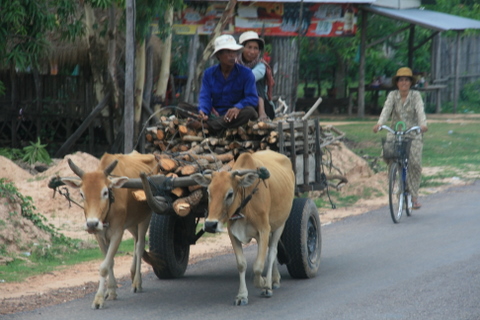 Reaching Siem Reap during dinner time we found a cheap hotel, got some food, and met a very insistent, slightly annoying tuk-tuk driver who wanted to drive us to Angkor Wat next day. Being tired of listening to him whine we just agreed to meet up early next day.
Angkor Wat is about 10 km outside Siem Reap and we were actually glad to have someone drive us there. Unfortunately Angkor Wat is quite expensive compared to the rest of the country's prices. 20 USD per day or 40 USD for three days. Unwillingly we paid the 80 USD and raced on in our tuk-tuk. The temples of Angkor Wat are indeed impressive but I think our expectations were a little too high from what people have told us so far, so it was hard to be really impressed.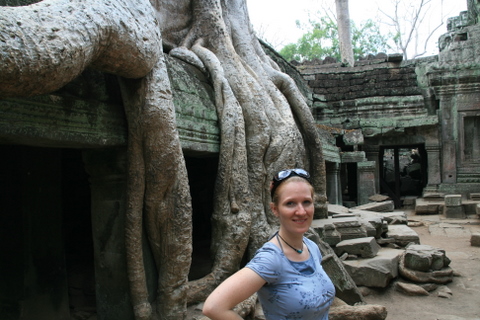 On the other hand, the monuments are huge and the architecture amazing for their time so we're glad to have seen it. We're going back tomorrow to see some more temples and I guess we're doing the same routine the next day as well, if we feel we can handle any more Khmer architecture. Again we reluctantly agreed to get up BEFORE dawn to see the sun rise over the main temple. Will be interesting to see how we really feel about that decision when the alarm wakes us up at 4:30.
These are the photos we took from Siem Reap
And these are the ones from Angkor Wat