As we left Cambodia on the Mekong river and entered Chau Doc we were met with a smokescreen caused by everybody firing up their bonfires for dinnertime using lots of paper and wood. Through the haze we quickly found ourselves a hotel (a super nice one, even) for $15 including breakfast. Chau Doc was much less touristy than any other place we've been to. We found only local eateries which we then had to try out resulting in finding a place with a menu including frog, snake, turtle and luckily less extreme Vietnamese dishes as well. We ate our dinner while locals had a few too many after-work drinks all around us. We also saw, for the first time here, Asians getting chili pepper red faces when drinking which was good fun. For the first time we tried a cyclo as transport, a bicycle with a trailer meant to contain small Vietnamese people.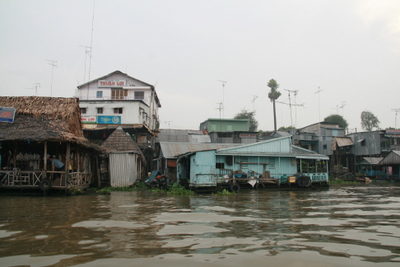 The next day we relaxed most of the day at our hotel trying to find a bit of peace and quiet which seems to be impossible in this part of the world. In the afternoon we found a slightly dodgy place to get a massage. We paid 80.000 Vietnamese dong (~$4,50) up front and got our massage by masseuses in separate one-man rooms. Afterwards I think I was offered a much more intimate massage than what I signed up for. My masseuse couldn't speak a word of English but her hand gestures made sure I got the point. Lisa got literally walked on during her massage resulting in her back muscles being really sore, so that was no success either. The masseuses demanded 100.000 dong extra by waving a 100.000 bill. We refused and told them to follow us out to the front desk, where they started waving our tip around laughing at us. We pointed to the sign saying 80.000 and then quickly escaped giving only a minimum tip; quite shocked back then, but now it's just amusing of course. Later on we learned that it's actually normal to give your masseuse a 50.000 dong tip as all the money you pay up front goes to the owner of the establishment.
We left Chau Doc the next day going by bus to Saigon. This bus had the best karaoke system we've seen so far but that didn't make the trip less painful. 6 hours later we arrived in the commercial capital of Vietnam. Despite that the city's official name is "Ho Chi Minh City" everybody still calls it Saigon.
Over three million motos (mopeds) are occupying the city streets every day and that is indeed reflected when you arrive as a newcomer. They are everywhere! On every corner, alley, street, road and boulevard. They are even parking inside the shops. But the city itself is not bad at all. As we got off the bus we took a taxi to Pham Ngu Lao area, popularly known as the backpacker area. Many of the hotels were fully booked so we reluctantly followed a random guy, claiming to know a guest house, into a narrow alley where we found a guest house run by the nicest family.
There are lots of activities for backpackers like us so we started out at the Reunification Palace, where the South Vietnamese surrendered in April 1975, went on to the War Museum, displaying horrifying footage and hardware from the war, and finished off by going to the Cu Chi Tunnels from where the Vietcong in the south fought their guerrilla war.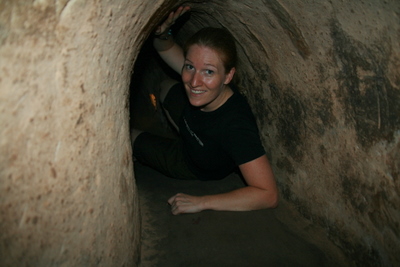 Especially the tunnel system was impressive. It is located 40 km towards the Cambodian border outside Saigon and it is enormous. We had the opportunity to crawl some of the tunnels ourselves which was both claustrophobic and exhausting. Our guide, Mr. Bin (referring to himself as Mr. Bean), was a South Vietnamese officer during the war and could tell a story or two about life back then. It definitely wasn't easy for him after the communists took over Vietnam in '75.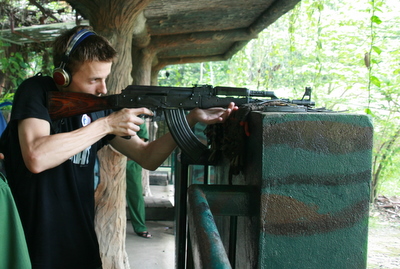 The tunnels are located in a current military area so you can actually try out some of the weapons used during the Vietnam War. Like many of the other visitors I couldn't resist and bought some rounds for the AK-47 assault rifle ripping up the big purple bunny shaped target in front of me. Heheheheheeeeh!
Walking randomly about in the streets of Saigon we met Rose and Mike, the New Zealanders we've been hanging out with in Cambodia. Weird! They joined us on the Cu Chi Tunnels tour but they left Saigon earlier than us as they had less vacation time.
After taking it easy for 5 days in Saigon we went on by bus to Nha Trang. Nha Trang is a coastal city surrounded by mountains located 450 km from Saigon and it should have some of the nicer beaches in Vietnam. The bus trip was as usual hell but at least their TV was broken so they only played a bit of bad local music. On this bus trip we witnessed our first serious traffic accident. A bus, not alike our own, had collided with a big truck causing the driver's side of the bus to be completely smashed in. The accident had happened on the top of a hill in a left turn and probably had some casualties amongst those sitting in the very front of the bus. We were sitting on seat number 1 and 2 ourselves and after seeing the accident we moved to the very back of the bus instead. It should be mentioned that in Vietnam they drive just as reckless as in the other countries we've visited so far. It is not unusual to attempt to overtake a truck with a bus on a road with only one lane in both directions while oncoming trucks are being forced out onto the gravel in the roadside. The horn seems to be their most important instrument when navigating traffic and is used when overtaking any vehicle – from trucks to bicycles.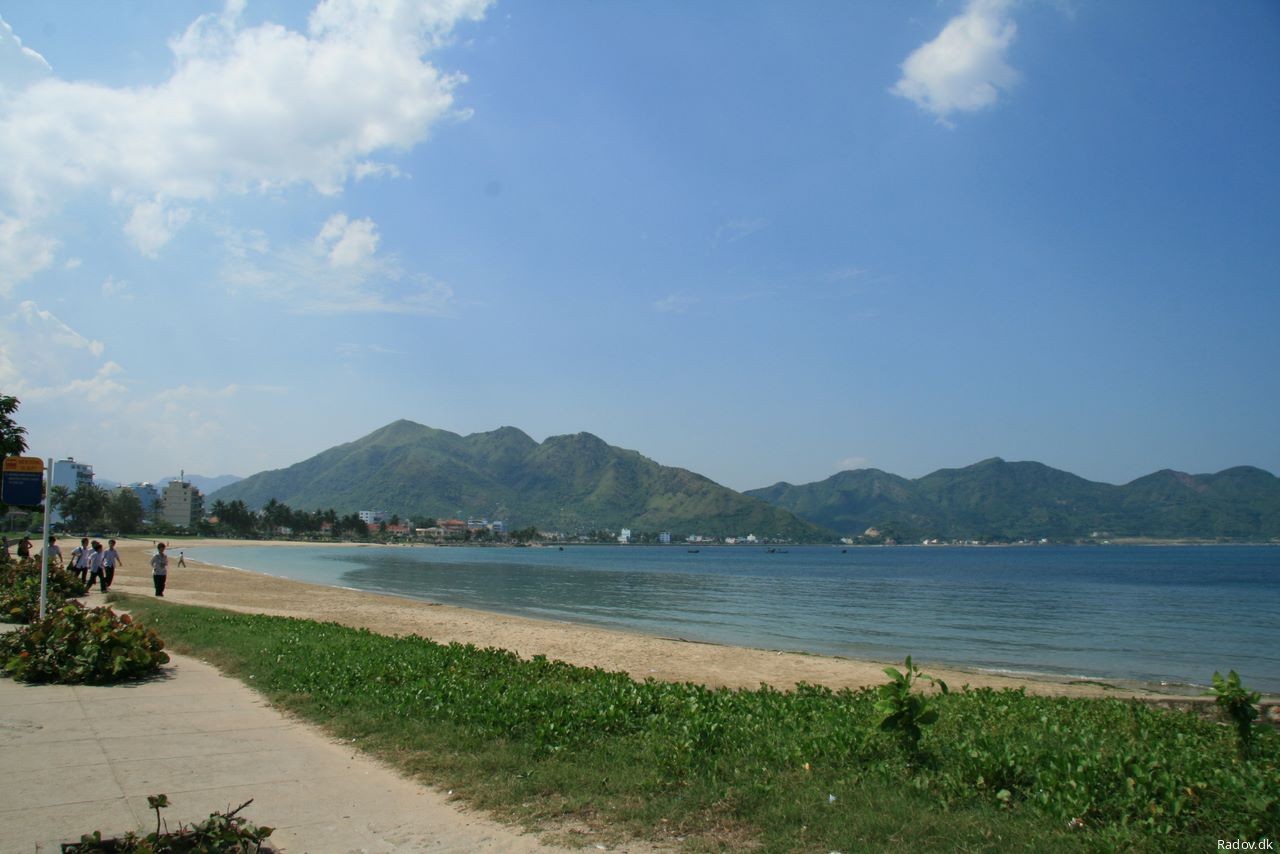 We arrived in one piece (or two, one each) at Nha Trang. Exiting the bus we were instantly met by the moto-drivers and people who wanted us to stay at their hotel. Fending them off we grabbed our backpacks and went to a hotel recommended by our guide book. At the time of writing we've now spent a day here and it actually is a really nice city. People are still often trying to sell you stuff and there are many incidents of theft on the beach, but I think we've learned to live with that by now. At the time of writing we're sitting on a lovely restaurant at the beach sharing a delicious Vietnamese hot-pot. This is definitely a moments to remember so far on our trip.
We had some great expectations of Vietnam but they were instantly shot down when we arrived in Chau Doc as we realized that the Vietnamese weren't generally as happy as either Thailand or Cambodia. In the other countries we were met with a smile wherever we went but rarely in Vietnam. However, all the children seemed just as happy as in the previous countries we've visited smiling, shouting "Hellooo" and touching us on the arm when walking past them. Makes you feel like a some kind of celebrity.
Updated pictures album from Saigon