Being absolutely battered after surfing we headed for San Salvador once again and the plan was to stay one night before heading north towards the border. I caught myself a fever so we ended up staying in San Salvador for 4 nights before being able to function normally.
We went by bus to La Palma, a very northern mountain town with great views. This place was really cozy and after battling mosquitoes for two nights we pulled ourselves together to visit the great unknown Honduras. Wasn't that bad really as even the border police was nice. We were ultimately heading for Copán Ruinas, a small mountain town in western Honduras very close to the Guatemalan border.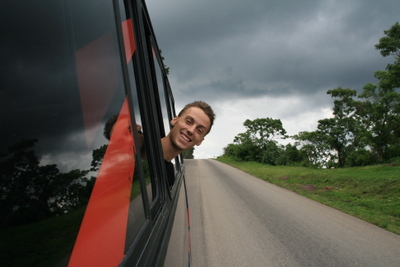 To get there we had to go by five different buses and there are absolutely no information available on the bus terminals. But people are nice if you seem lost and are always willing to point you in the right direction. The trip itself was very scenic and prettier than the mountain roads in El Salvador, so we enjoyed the bumpy ride and shot some photos out the window.
Copán Ruinas is famous for it's ruins (surprised?), which are of Mayan origin. We haven't really seen them yet as Lisa got a fever when we arrived and hasn't been feeling very fresh since. We're staying a lot on our hotel room but it's not so bad as it has been raining a lot the last few days. The town, also just called Copán, is an ancient picturesque town with hilly cobblestone streets that could appear on any postcard. It's really easy to forget time and relax as there are plenty of cafés and restaurants to spend your last lempiras at. Generally the locals are nice in this area but it certainly makes a difference if you at least try to speak Spanish to them. We're trying to catch up on our Spanish and they do have a few Spanish schools here but the prices just don't seem right; probably because it is a touristy area and they can charge any obscene price they want.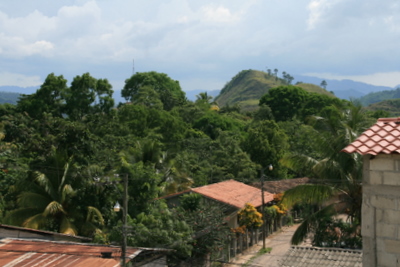 The tough guys here in Copán look like tough guys everywhere else with their pimped cars, tinted windows and bad-ass tatoos. The weird thing here in the mountains is, that instead of playing super loud gangsta rap as they did in San Salvador, they play super load folk music sounding a bit like Los Lobos. Speaking of the Latin American gangsta rap or hip-hop it all sounds very much the same. The major difference from western music is the language and the rhythm. All hip-hop here sounds like this: oohm…ba-dumm-baa-oohm…ba-dumm-baa and so on. If you find that hard to imagine then click here and take the easy way out.
When Lisa gets better we'll go see the Mayan ruins, which after all is one of Honduras' greatest attractions. One of the other must-sees is the Bay Islands, which is where we are going after this.
Pictures taken in Copán Ruinas, Honduras.